In August 2008, despite all of my visits with her to many doctors, I tragically lost my only child. My beautiful 17 year old daughter, Janessa. She is MY ANGEL. She is my inspiration that has set me on this path to candle making. She and I have always loved candles. Candles bring warmth, radiance, love, and light to any environment and so my daughter did with her large expressive brown eyes and beautiful smile. They also provide a lovely, therapeutic, natural, light, scent that creates a peaceful, serene atmosphere wherever you burn them.
My Angel Daughter Janessa and I
All proceeds will be donated in Loving Memory of Janessa Marie and will go to the following:
"The Compassionate Friends", a non-profit organization for bereaved families following the death of a child.
"The Animal Rescue League of Southern Rhode Island" - because Janessa loved animals.
"Smile Train" - because Janessa had the most beautiful smile and we want to give the chance to change children's lives forever with a beautiful smile of their own!
"PROJECT JANESSA - KENYAN OUTREACH" -
Visit: www.PJKO.org
With Light,
Gina Zazza,
Janessa's Mom

My Angel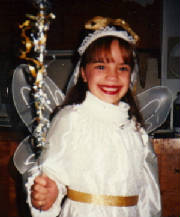 Angels Are Forever
They lift us up, they light the way. Angels walk beside us every day.
With tender hands they catch us when we fall. They teach us love and understanding are the Greatest Gifts of all.
Angels are forever I know without a doubt. They shine with an eternal flame that will never go out.
We hold them and we love them, wishing they could always stay. Angels are forever, but sometimes they fly away.
I loved her eyes, I adored her smile. She was my angel for a little while. There must have been important work to do.
Now I lean on the love she left behind to get me through. So if you have an angel, thank God every night, Cause you've been blessed with happiness and hold your Angel tight.
From "The Compassionate Friends"