Shop Page 2
Simple & Elegant
Clean Burn
All Natural Soy Wax~Pure Essential Oils~Cotton Wick

Hand Poured with "Heart & Soul"
NEW! Essential Oil Pillar Candles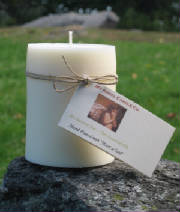 3 x 4 1/2 Round
Flat Rate Shipping & Handling via USPS ~ $6.50
Aromatic Descriptions:
Patchouli Essential Oil Candle ~ A strong, earthy aroma, sweet and spicy. 12oz. $15.95 / Pillar $12.95

NEW Holiday Scent! Frosty Icicle ~ An icy blend of Wintergreen Essential Oil and Spearmint Essential Oil. Refreshing and Cooling! Both oils come from steam distilled leaves from the plants. Wintergreen Essential Oil has a history of use as a pain reliever. It is also believed to increase the speed of healing for skin disorders, and when added to lotions, acts as a natural moisturizer. (This is not for remedy use). 12 oz. $15.95 / Pillar $12.95
NEW Holiday Scent! Candy Cane ~ A refreshing holiday favorite. Made from steam distilled Japanese Peppermint leaves. A penetrating, sweet mint scent with its cooling effect. Peppermint Japanese Essential Oil comes from India and has long been credited as being useful in combating stomach ailments. It is also viewed as an antispasmodic and antimicrobial agent. Associated with many candies and foods. 12 oz. $15.95 / Pillar $12.95
Relaxation Therapeutic Blend Essential Oil Candle ~ Uplifting, spicy, sweet, herbal aroma. This blend is known for its therapeutic use for depression and anxiety. A lovely homemade blend of Bergamot, Clary Sage, and Lavender Essential Oils.
(does not cure depression & anxiety) 12oz. $15.95 / Pillar $12.95
Ylang Ylang Rosewood Blend Essential Oil Candle Out of Stock ~ Fantastic warm and woody aroma while at the same time being sweet, exotic, and floral. A homemade blend of Ylang Ylang and Rosewood Essential Oils. 12oz. $15.95 / Pillar $12.95
Natural Unscented Candle ~ Pure Soy Wax 12oz. $15.95 / Pillar $12.95
Lemon Eucalyptus Blend Essential Oil Candle ~ A homemade blend of Lemon Essential Oil and Eucalyptus Essential Oil. Refreshing, rejuvenating, cooling, and energizing. Herbaceous scent inspires and clears the mind giving fresh energy. 12oz. $15.95 / Pillar $12.95