PROJECT JANESSA - KENYAN OUTREACH
New School Uniforms!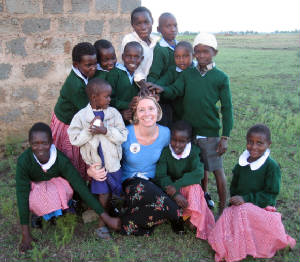 Children of Mwea, Kenya
Please visit PROJECT JANESSA - KENYAN OUTREACH's official website.
| | |
| --- | --- |
| | Please support PROJECT JANESSA - KENYAN OUTREACH! Rest assured, your donation is going directly to the people who need it most by my hands! |
Help support PROJECT JANESSA - KENYAN OUTREACH! NEW FOR SALE: Tote Bags, T Shirts, Track Jackets, Baseball Caps!
I have begun this project in Honor of My Angel, Janessa. PROJECT JANESSA - KENYAN OUTREACH is in its early stages. Yet, I am pleased to report that 3 missions have been carried out since December 2009. My friends in Kenya are loving, caring, smart, hardworking people. Even so, their needs far surpass any of ours, to say the least. The rural villages that I reach out to are mostly poor farm villages. There is no electricity or running water. Life there is very simple, but difficult.
PROJECT JANESSA - KENYAN OUTREACH focuses are the following:
School Uniforms for children so that they can attend primary school - In Kenya, Primary school is almost free of charge. The problem is that the children must have a uniform to attend. You can see where that becomes a major problem for families who are just trying to survive. The average school uniform costs $40 USD and it includes shoes, socks, pants/dress, shirt, and sweater. No child should be denied an education simply because they do not have a uniform.
Shoes for those who are barefoot and cannot afford a pair of shoes. Many people do not wear shoes because they do not own a pair. This can cause a serious health risk making the person susceptible to Jiggers. These are small worms that burrow into the feet (usually starting at the toes) causing pain, swelling, puss and of course fever and other terrible side effects.
Food for families that are in a state of total destitute. This will probably include rice, sugar, beans, flour, soap, cooking oil, but is not limited to just that. I especially reach out to single mothers with small children and the elderly.
School Supplies for some of the village nursery/pre-schools. The teachers are doing their very best reaching out to the small children for early intervention. They literally have no pencils, paper or books. Just some homemade posters on the walls made out of burlap bags in many cases.
Food Desperately Needed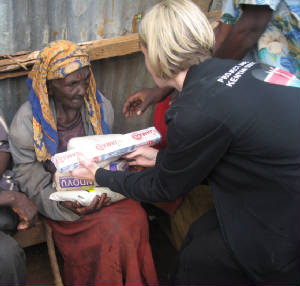 Thika Village, Kenya
I know this is what I am meant to be doing. PROJECT JANESSA - KENYAN OUTREACH achieved official Non-Profit status in the spring of 2011. I will always keep this page updated with the latest news. Please feel free to e-mail me with any questions regarding this project. I would be more than happy to hear from you.
Presentation of Food Supplies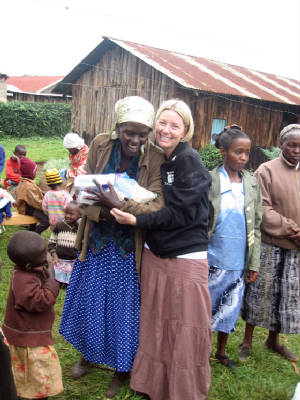 Ihwagi Village - Karatina, Kenya
PROJECT JANESSA - KENYAN OUTREACH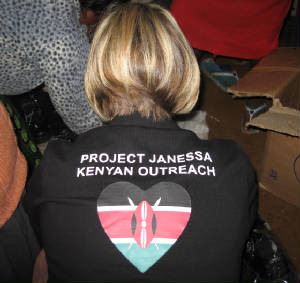 PLEASE SUPPORT THIS WONDERFUL CAUSE
December 2009 Mission: PROJECT JANESSA - KENYAN OUTREACH supplied food and other much needed items to over 60 families including widowed elderly and 80 Brand New School Uniforms to children of 4 poor rural villages! Thank you to ALL that donated to make this so successful! May God Bless You.
July 2010 Mission: I have now just returned from my third Mission, July 2010. I am pleased to report that PROJECT JANESSA - KENYAN OUTREACH brought along its first team member. We were blessed to be able to supply 57 children Brand New School Uniforms that includes Shoes and food to over 82 families in the four villages that we worked in. They are: Giakaibei, Ihwagi, Thika, and Mwea. Five mattresses were purchased for needy people as well as the building of a 2nd PROJECT JANESSA - KENYAN OUTREACH home! This home was built in the village of Giakaibei for my very special family of eight. Blessing ceremonies of both homes took place as well as the baptism of three of my beautiful Kenyan friends!
July 2011 Mission: Project Janessa - Kenyan Outreach had another very successful, blessed mission this past summer. We are pleased to have expanded into our 5th village and were busy at work for 3 weeks. 77 children received brand new school uniforms and shoes. Over 100 families including the elderly received much needed immediate food relief. 2 mattresses were given to our dear elderly friends Mama Priscilla and Mama Regina (sadly Mama Regina passed away just one week after returning to the states). I am humbled to have been there in Mama Regina's final days to help bring her comfort. Plans are in the works for organizing self sustainable projects in the villages. Thank you to all who help make this work possible and for helping to keep Janessa alive in Spirit.