Body and Home Care
All Natural ESSENTIAL SKIN Body Oil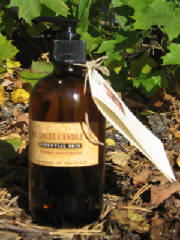 Paraben and SLS Free 10 oz. Amber Glass Pump
Flat Rate Shipping & Handling via USPS ~ $6.50
Here it is...My Angel Candles All Natural ESSENTIAL SKIN Body Oil
Paraben & SLS Free
Our skin is our largest organ and absorbs the most toxins. Even when shopping at the most natural stores, when you read the labels, you may find yourself disappointed at the ingredients that are found in most. We have taken it upon ourselves to make a skin moisturizer that is healthy and free from any laboratory made chemicals.
ESSENTIAL SKIN is made up of three ingredients only. Camellia Seed Oil, Grapeseed Oil, and an essential oil to give it a nice light scent. That's it! Camellia Seed Oil is an excellent anti-oxidant. This protects the skin from free radical damage. One of the best kept secrets in the cosmetic industry. Historically, it was the only oil used in Asia to protect Samurai swords from Rust and Corrosion, another testimonial to its anti-oxidant properties! Grapeseed Oil is also a natural anti-oxidant that comes from Mediterranean grapes; this eliminates free radicals and protects the skin from external aggressors such as city pollution, slowing accelerated signs of aging. The combination of the two main oils provides a light, satin like finish to your skin. It is readily absorbed and does not leave your skin with a thick, greasy, oily feeling.
In addition, Essential Oils which are all natural plant based are used to give both benefits to your skin and a light scent. The scent never interferes with a perfume that you may like to use.
ESSENTIAL SKIN leaves your body moisturized with NO worries.
Turbinado Sugar Body Scrub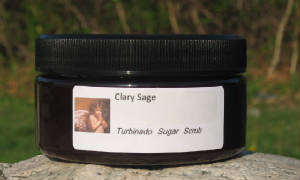 All Natural - 8 oz
All Natural - Turbinado Sugar Scrub
Your skin will be left smooth and moisturized after applying this body scrub to your skin during your shower. The natural oils of Camellia Seed, Grapeseed and Essential Oils will absorb into your skin leaving you glowingly soft. Now available in three Natural Scents of Clary Sage, Orange Bergamot, and Lemongrass. All are lovely!
Organic Chamomile Exfolite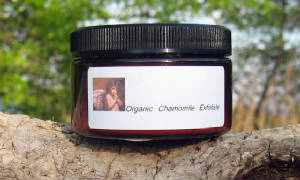 For your Face - 4oz.
Organic Chamomile Exfoliate - $8.00
Organic Chamomile Facial Exfoliate
This Organic Chamomile Facial Exfoliate is wonderful! It helps to gently remove the outer layer of dry, dead skin cells to reveal the younger, healthier skin beneath, promoting tissue regeneration. All indredients used are organic and hand ground. It contains: Ground Oatmeal, Non-Fat Powdered Milk, Ground Cornmeal and Ground Dried Chamomile Flowers from Egypt. Cleopatra knew about the beautifying properties of milk; she took baths in it! Skin-softening, moisturizing, and filled with nutrients, milk has been a favorite beauty aid for millenia. This exfoliate has anti-inflammatory and antibacterial properties. Gentle enough for daily use.
Aromatherapy Mist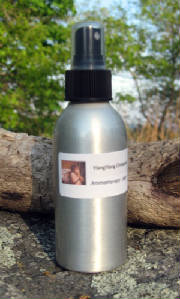 4 oz.
Aromatherapy Mist
All Natural Aromatherapy Mist is great as a healthy alternative to the air freshners on the market today. Free from chemicals, it is water based with Natural Essential Oils. It not only freshens the air you breathe it is also a wonderful addition when sprayed on your bed sheets and pillows!